Overlooking a deep valley is the delightful garden, the main spot of attraction. The Raja's seat is so called because the Raja's of Kodagu spent their evenings at this vintage point watching spectacular sunsets. The lovely flowers in full bloom and the fascinating view of the winding roads makes the visit a memorable one.

An added attraction is the toy train "Baba Saheb Express" near by with a park for the kids. Very next to Raja's seat stands the ancient Temple "Chouti Mariyamma". A furlong away stands the "Gandhi Mantap" with the statue of Mahatma Gandhi built in memory of the Father of Nation.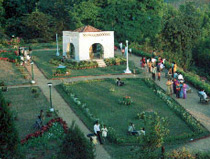 This was built in 1820 by Lingarajendra the then ruling King to ward off the evil caused by "Brahma Rakshasas". The Shiva Linga is said to be brought from the holy place "Kaashi". This temple has an unusual architectural combination of 'Indo-Sarsenic' Style.

Nearby is the holy tank. Regular poojas are performed in the temple for the different deities like Lord Subrahmanya and Ganesha.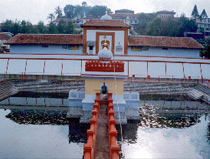 15 kms away from Nagarahole is the beautiful water fall, "Irpu falls' which flows as Laxman theertha, A Shiva temple dedicated by Lord Sri Rama is on the banks of the River. Walking besides the paddy field and watching the gorgeous falls which is about 60 ft. is a real treat to the eyes. This is also an ideal picnic spot. Quite a few Houses are available for "Home stay".

There are enough guest houses near Gonicoppa, Virajpet and Kutta for those visiting Nagarahole and Irpu. Buses also ply from Gonicoppa.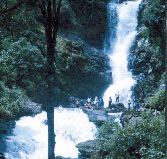 Madikeri Harangi Dam
A dam built across the tributary of Kaveri with a length of 2775 ft. and 174 ft height. A real picnic spot with the back water gushing out and with a Cauvery temple nearby. A travel of just 8 kms from Kushalnagar.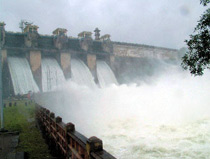 Madikeri Talacauvery
The worshipping Goddess of Kodagu is Mother Cauvery. The birth place of Sacred River, Cauvery, Talacauvery is one of the main pilgrim centres of Karnataka. A 48 Km drive from Madikeri stands Talacauvery at the foot of "Brahmagiri Hills". Here emerges river Cauvery and gushes her way through Karnataka and Tamilnadu, sanctifying lakhs of hectares of land around her, ending her 760 km journey at Poompuhar in Tamilnadu to join Bay of Bengal.